To Audition for any listed GAC Production below
Please see the individual show listing for specific information, but feel free to print and fill out our audition form in advance to bring to your audition. (Copies will be available at auditions as well.) All productions are required to follow the GAC Audition policy. If you feel that there has been an issue or violation of this policy, please contact VP of Programs to address the situation.
Merrily We Roll Along Auditions!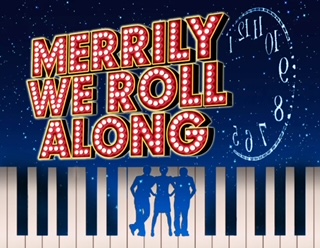 Merrily We Roll Along music and lyrics by Stephen Sondheim/book by George Furth. Directed by Roy Hammond, produced by Greenbelt Arts Center, musical Direction by Joe Biddle, and choreography by Rikki Lacewell.
Audition Dates: Sun. Oct. 8, Mon. Oct. 9, and Tues. Oct. 10, at 7:00pm; Callbacks will be Wed. Oct. 11 at 7:00pm, if needed.
Audition Location: Greenbelt Arts Center, 123 Centerway Rd., Greenbelt, MD 20770. Follow the link at the website, www.greenbeltartscenter.org, for detailed directions.
Casting: 20 (10M/10F) Non-paid community theater
Prepare: 16 bars of an up-tempo song that showcases your voice and demonstrates your ability to interpret character. It doesn't have to be a Sondheim piece, but something of comparable complexity would be advantageous. Please bring your sheet music – a pianist will be at the auditions. There will also be cold readings from the script. If you have it, bring an up-to-date 8 x 10 and attached resume. Be prepared to complete a Greenbelt Arts Center audition form and to list all conflicts.
Rehearsals will start Oct. 30 and will run Sunday through Wednesday each week up till two weeks before opening when rehearsals will be every day. Also, some Saturdays are involved.
Performances: 3 weekends opening Jan. 5 and closing Jan. 20, 2023. Any questions please contact the director at roy.hammond987@gmail.com
Show Description/ Casting Consideration: The show tells the story of how three friends' lives and friendship change over 20 years; it focuses particularly on Franklin Shepard, a talented composer of musicals who, over those 20 years, abandons his friends and songwriting career to become a producer of Hollywood movies. Like the play on which it is based, the show's story moves backward in time. It begins in 1976 at the friends' lowest moment and ends in 1957, at their youthful best. Note: Most of the characters are about 40 years old at the beginning of the play and 20 years old at the end. We are happy to consider performers at any point within this age spectrum for all roles. It will be a casting balancing act, but the general idea is that Frank, Mary, Charlie, and Beth should all look around the same age, while Gussie and Joe should seem slightly older. Regardless of how characters are described in the script, our casting seeks to be as inclusive as possible, and we invite gender non-conforming, genderqueer, transgender, and non-binary actors to submit for the roles they are most interested in being seen for. This is in keeping with GAC's casting and audition policies.
Character Breakdown (10 M / 10 F):
Franklin Shepard (M) – His character ranges from an influential songwriter and film producer to an innocent, bright-eyed optimist in NYC. Charismatic, talented and handsome but misled, tragic, and tormented. Range: A2 – Bb4
Charley Kringas (M) – A stubborn, intense man with average looks. He ranges from a successful lyricist and Frank's longtime friend to a bright-eyed optimist creating his own opportunities in NYC. Range: A#2 – G#4
Mary Flynn (F) – A bitter and witty middle-aged theatre critic. Her character arcs to the youthful, gorgeous 20-something living in NYC with best friend Frank, with whom she is secretly in love. Her younger optimism gets clouded over by missed opportunities and she turns to alcohol as this happens. Range: F3 – F5
Gussie Carnegie (F) – A brash and seductive Broadway legend who leaves her producer husband (Joe) for Frank, destroying two marriages in the process. Her character begins at the end of her relationship with Frank, but throughout the show we see her grow more and more helplessly in love with him. Range: Gb3– C#5
Joe Josephson (M) – Big-talking, loud and boisterous Broadway producer, and husband to Gussie, who enjoys the glitz and glam of success. He eventually loses both Gussie and his money and becomes a poor, pathetic slob. Range: A2 – F#4
Beth Spencer (F) – A dewy-eyed romantic, naive and insecure middle-American who is the mother of Frank's son. She arcs from a down-trodden housewife at her wits end to a hopeless romantic at the beginning of her engagement to the man of her dreams. Range: G3 – G5
Tyler/Waiter (M) – Wealthy, backer of Franklin's musicals, part of Frank's entourage from the beginning when Frank was starting out. Faithful friend.
Terry (M) – Head of Paramount studio. Worked himself from the mailroom to head of the studio. Think Louis B. Mayer from the 1930's. Scum-bag underneath but has a great business head on his shoulders.
Scotty (F) – Frank's hot shot, crusty agent.She has fired and rehired Frank and Gussie many times.
Dory/Pianist/Bum (F) – Dory is Frank's personal assistant/secretary. Another part of the entourage who has been there since the beginning. / In the Downtown Club scene actress will play a beatnik piano player.
RU / Floor Monitor / Photographer / Musician (M) – RU is Frank's starry eyed male hanger-on and so wants to be a part of Frank's entourage. On his own he is an up-and-coming screenwriter who wrote Frank's first solo film. / Floor monitor on the NBC nightly news program in NYC / Photographer is KT's right hand man at the courthouse. / Musician is Mary's boyfriend during the "Opening Doors" number who is a parent's worst nightmare.
Jerome (M) – Frank's lawyer – Has gotten Frank out of many bad times. Faithful friend and always has been at Frank's side.
K.T. Summers (F) – TV personality, started out as a journalist. Has climbed the ladder alongside Frank. Think Barbara Walters.
Meg Kincaid / 1st Girl / Evelyn (F) – Meg is a starry-eyed starlet who is naive and ambitious. At the start of the show, she is Frank's newest fling. / 1st Girl tries out for Frank's first revue but can't sing a note – Lucille Ball like – VERY memorable role / Evelyn is Mary's first roommate in NYC. Range: D4 – Gb5
Bunker/Cameraman (M) – Frank's "yes man" – no matter what Frank wants, does, says, requests, etc. Bunker nods his head in agreement. Depending on actor cast possibly could also double as his bodyguard.
Cory Hamlin / Minister (M) – TV Newsman – Network news anchor and also half of the Corey and Carey Show in the morning. When the camera is not on he cannot stand Carey; even being around her rubs him the wrong way – think of William Frawley and Vivian Vance or Jerry Turner and Oprah Winfrey.
Carey Goodfellow (F) – TV Newswoman– Network news anchor and also half of the Corey and Carey Show in the morning, When the camera is not on she cannot stand Cory, even being around him rubs her the wrong way.
Happy Stance (F) – Make-Up Artist – Young, excellent at what she does otherwise a little slow and dimwitted.
Mr. Spencer / Party Guest Act 1 (M) – Older male, very conservative, traditional.
Mrs. Spencer / Party Guest Act 1 (F) – Older female, bigoted, stuffy, despises Franklin and the relationship he is in with her daughter. Dies at a young age.
Casting and Audition Policy
As part of our ongoing effort to be an inclusive and welcoming space, the Greenbelt Arts Center requires that all productions follow our audition and casting policy, which can be found in full here.  Production teams are not to limit casting choices unless a script specifies that an actor portraying that character must fit a specific demographic (ex. August Wilson's plays, Lynn Nottage's Sweat, the musical Hairspray.)
GAC will work with actors to accommodate needs within our capabilities as a non-profit organization, and is always open to suggestions about how we can improve the experience for all volunteers.
Watch this space for future audition opportunities!