Register for the GAC General Membership Meeting!
Please mark your calendar for Sunday October 9, 2022 at 5:00pm EST for the GAC General Meeting! This is the annual meeting to discuss the state of GAC's community and arts contributions, review the business of the center, and elect new officers. All interested members are encouraged to participate, but you do have to be a member of GAC to vote in the elections.
It's easy to become a member of GAC online – click here.
To register for the Zoom Webinar meeting, please click here. Attendance information will be emailed to you.
Board of Directors Elections coming at the October General Meeting!
The GAC Board has six positions up for election in October: President, Administration Vice-President, Treasurer, and three At-Large Directors.
Current nominations made and seconded are:
President – Julie Ann Hawk
Administration Vice President – Bob Kleinberg
Treasurer – OPEN
At-Large -Meg Nemeth
At-Large – Ann Lowe Barrett
At-Large – Kate Robinson Magill
At-Large – Isabelle Strauss-Riggs
Members can nominate themselves or others for any position, regardless of whether or not there are current nominations. All nominations require a second to the motion, which can be done electronically through email by any member of GAC.
Other members of GAC wishing to run for any of these roles may send an e-mail by August 26, 2022, to Pamela Northrup, head of the nominating committee,  specifying the roles for which they wish to run and their relevant experience.
If you have general questions about Board service, feel free to email current President Win Britt.
COVID-19 STATUS
As Greenbelt Arts Center begins to allow in-person programming once again, we are continuing to require all audience members to show proof of vaccination at the door to obtain entry, and to wear a mask over nose and mouth during their entire time in the facility.
Please note that all tickets must be purchased in advance onlne. There will be no ticket sales at the door.
Click here to read our full current COVID-19 Policy.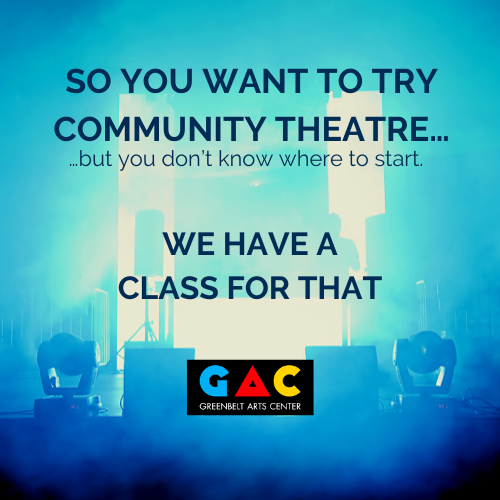 Introducing our Skills Classes
One of the big stumbling blocks for a lot of people who would like to volunteer in community theatre is feeling like they just don't have the knowledge needed. So, we will be presenting a series of free seminars to help with just that – running lights or sound, stage management, even auditioning!
Keep an eye on this space for signups for future planned sessions:
October 16, 2022 – Speed Dating – Connecting Producers and Directors with How To Submit a Proposal
November – Be the Boss! Stage Management 101
February – Visual Arts on Stage – Scenic and Lighting Design
Please note that these will be IN-PERSON events, and will require proof of vaccination against COVID-19, and all participants will need to wear masks the entire time they are in the facility.
If you have any questions, please contact VP Programs Pamela Northrup.