2020 Greenbelt Arts Center General Membership Meeting
On October 18th at 5pm the GAC General Meeting will be held via Zoom. 
We are strongly encouraging all members of the organization to participate.
  For further details, click here.
by Charlene A. Donaghy
directed by Rikki Howie Lacewell

2 Live Online Performances
Saturday, October 24 at 6pm & Sunday, October 25 at 6pm
The live performances will be offered free, but will not be recorded for future viewing, so don't miss it!
Greenbelt Arts Center presents a workshop reading of The Quadroon and the Dove, a new work by Charlene A. Donaghy. This play is in preparation for its Off-Broadway debut. 
To register to attend a performance, please fill out the form at this link and the Zoom information will be emailed to you.
The Rude Mechanicals
in residence at the Greenbelt Arts Center present: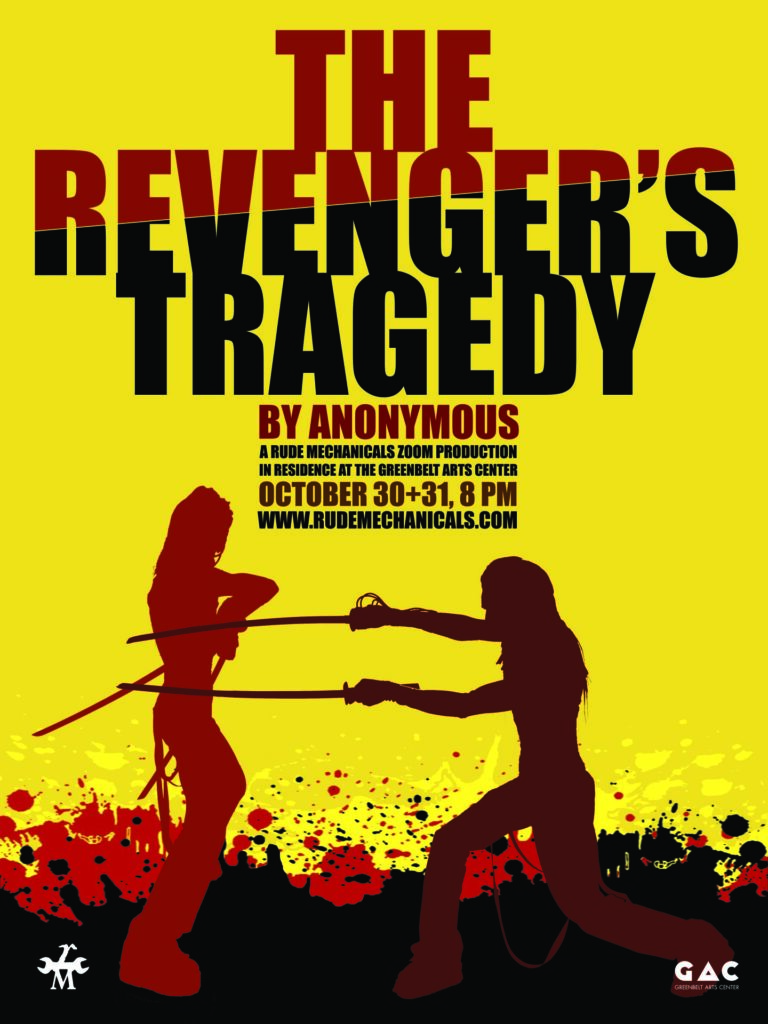 by Anonymous circa 1605
directed by Jaki Demarest

Performances Friday and Saturday, October 30 & 31
The Revenger's Tragedy is a darkly comic masterpiece by an unknown writer. Just in time for Halloween, we have a Jacobean revenge tragedy with vivid and muscular prose, Hamlet without the indecision. A little touch of Tarantino in the night, with intrigue, murder, mayhem, infidelity, a poisoned skull, a mistaken execution, a battle royale with the improbable weapon of a severed head, and a twist ending that manages to subvert all the tropes and expectations. Notice: this play contains adult themes and references to sexual violence.
The Rude Mechanicals
in residence at the Greenbelt Arts Center present:
The Rude Mechanicals and the Greenbelt Arts Center present this online production of Romeo & Juliet, the story of two young women in rural America fighting against the prejudices of their families and even themselves in order to be together. This cast brings new life, heart, and insight to this classic play.
COVID-19 STATUS
As of August 3, 2020, the Greenbelt Arts Center is closed and anticipates remaining so through at least November 30, 2020. Further updates to this status will be posted here.
Thank you.
Dear GAC Family and Friends:
As part of our ongoing commitment to being a safe environment, the Greenbelt Arts Center wanted to clarify our operating status.
We are following the City of Greenbelt's closure – as long as they remain closed, so will we. We are assessing our status on a monthly basis and are keeping informed internally.
We decided to announce our planned season as a way to give some hope for the future, and to show that we do have plans in place for when we are able to open up again.
At this point, we are operating under the assumption that the facility will most likely be closed through at least Sept. 30, 2020, with the possibility of extending beyond that. As such, we will be moving our planned production of "Next Fall", directed by Eric Scerbo, to our 2021-22 season.
The Rude Mechanicals' production of Romeo and Juliet has been moved to an online performance – please check back here for more details. All future shows on our 2020-21 schedule are pending our ability to safely audition, rehearse, and perform them.
Until we can all gather again, please stay safe, wear a mask, and wash your hands.
Pamela Northrup VP Programs, Greenbelt Arts Center
Our 2020-2021 Season
The Greenbelt Arts Center is pleased to announce our 2020-21 Season.
Please note that all shows are subject to our ability to safely reopen to the public in accordance with state and local mandates.
Romeo and Juliet
Presented by the Rude Mechanicals
Directed by Claudia Bach
Live online: August 15 – 16, 2020
A reimagining of the Shakespearean classic, set in the "Don't Ask, Don't Tell" 1990's, where both Romeo and Juliet are women.
This Wonderful Life
A guest production from Ken Falkenhagen
December 4 – December 13, 2020
In this one-man stage version of Frank Capra's classic holiday film, "It's a Wonderful Life", veteran performer Ken Falkenhagen inhabits (nearly) every single role – over 30 characters! – from everyman George Bailey; to evil, old Mr. Potter; to Clarence, the dotty angel. It's a family-friendly reworking of the classic holiday story of the effect that one hard-working man's life has on the people around him!
The Chromatics Holiday Concert
December 18-20, 2020
Holiday music program, with a mix of covers, originals, and seasonal songs performed by The Chromatics, a Greenbelt a capella group.
Ill Met by Moonlight
Presented by the Rude Mechanicals
Adapted and directed by Joshua Engel
February 5 – February 13, 2021
A site-specific word and movement piece designed for the Greenbelt Arts Center, based on A Midsummer Night's Dream. GAC's black box and thrust enclosure become a literal blank slate, where the actors (and fairies) can draw the eerie scene around them in chalk. The lovers enter the land of Faerie, where curious ancient entities wonder at the short-lived mortals. Shakespeare's text is married to deeper myths, producing a powerful and unforgettable Midsummer.
True West
Presented by Prince George's Repertory
Directed by Chris Dwyer
February 19 – February 27, 2021
True West is a character study that examines the relationship between Austin, a screenwriter, and his older brother Lee. It is set in the kitchen of their mother's home 40 miles east of Los Angeles.
The Mountaintop
Directed by Rikki Howie Lacewell
Produced by Pamela Northrup
March 5 – March 27, 2021
A gripping reimagining of events the night before the assassination of the civil rights leader Dr. Martin Luther King, Jr. On April 3, 1968, after delivering one of his most memorable speeches, an exhausted Dr. King retires to his room at the Lorraine Motel while a storm rages outside. When a mysterious stranger arrives with some surprising news, King is forced to confront his destiny and his legacy to his people.
Farragut North
Directed by Bob Kleinberg
Produced by Malca Giblin
April 9 – May 1, 2021
Farragut North follows the event behind the scenes of a Democratic presidential primary and the hubris that accompanies the personalities involved.
Cymbeline
Presented by the Rude Mechanicals
Directed by Erin Nealer
May 7 – May 15, 2021
Shakespeare's Cymbeline is, at its core, a fairytale. A king is possessed by a cruel queen, a pair of star-crossed lovers are separated, a heroine goes on a journey to redeem herself and finds herself instead, a family is torn apart and reunited, and the real treasure is the friends we made along the way. But it's not always a very good fairytale – it's goofy, improbable, and relies pretty heavily on mistaken identity and butt jokes. However, there's a real, honest heart at the core of the play with Imogen and Posthumus' relationship, a good moral about knowing who your real family and friends are, and interesting character development through an epic quest – and all for a female protagonist, no less! This edited version cuts all of the meandering plot lines that go nowhere and adds in a pair of narrators – a parent and child reading the fairytale of Cymbeline together, like in the beloved film "The Princess Bride".
Merrily We Roll Along
Directed by Roy Hammond
Produced by Malca Giblin
May 28 – June 19, 2021
Beginning in the present and moving backwards, Stephen Sondheim's musical traces the lives of wealthy, jaded composer Franklin Shepard and his two estranged friends through each milestone of their personal and professional lives (good and bad). The show ends with a touch of rueful irony, as the three best friends at the start of their careers face a bright future: young, talented and enthusiastic about the worlds waiting to be conquered.
Patchwork Girl of Oz
Directed by Eliot Malumuth
Produced by Jenna Jones Paradis
July 2 – July 24, 2021
This exciting musical is packed with songs and featuring exotic creatures in the wonderful Land of Oz. Scraps, the Patchwork Girl, is brought to life by Dr. Pipt, a lovable old magician on the outskirts of Oz. The same magician accidentally marbelizes Unc Nunkie whose nephew, Oja the Unlucky, sets out to gather the necessary ingredients for a potion to reverse the spell—a shortcut, as it would take the magician six years to produce another dose of life powder. On our adventure with Oja and Scraps we meet the Scarecrow and the Tin Woodman, of course, plus Johann Sebastian Box, the one and only Woozy, Bo-Hoko, princess Ozma of Oz, Tollydiggle, the Yoop and more!
Black Lives Matter
The Greenbelt Arts Center Board of Directors is saddened by the killings of George Floyd, Breonna Taylor, Ahmaud Arbery, and the long list of many other Black and People of Color who have died as a result of systemic racial injustices in our country. We stand with all those who speak out against injustice and abuse of power, and who seek to reform the systems that have made racism so rampant in our world.
We want to do better. We must do better. We will do better. We are striving to educate ourselves as individuals and as an organization, and we are here to listen and learn from the voices that have been too long silenced and vow to help amplify them to the world.
We acknowledge and support all of the People of Color who have (and have not yet) graced our stage and our theatre. We have historically chosen to stage productions that reflect the rainbow of diverse experiences in our community, and we know that we can still do better. We will do better. 
#INSOLIDARITY #BLACKLIVESMATTER
The Greenbelt Arts Center is looking to find ways to continue to make art in these unusual times. We are seeking submissions for productions that can be done during this time of social distancing.

Successful submissions will be able to be streamed, either live or pre-recorded and edited together and have no or minimal costs associated with production. We are particularly interested in pieces that address current events, including original works. Directors with works showcasing themes of social justice are strongly encouraged to submit. In your proposal, please include: – A brief summary of the script, as well as a link to an electronic copy
– A plan for how it will be broadcast (Facebook Live, Zoom, etc)
– All associated costs with the production, including rights
-A timeline for production, including proposed performance dates
Please submit the above to Pamela Northrup, VP of Programs at

programs@greenbeltartscenter.org

with your contact information.
Dear GAC Family and Friends:
Out of concern for the safety of our community and the GAC team, the facility is closed until further notice (at least through June 30, in following City of Greenbelt's closing of city facilities).
We have made the decision to cancel our planned productions of The Children's Hour and Arcadia. We hope that we will be able to bring them to you in a future season. The decision has also been made to reschedule the Rude Mechanicals' production of Romeo and Juliet to next season. Please continue to check back here for updates – we will post when we have them.
Please take care of yourselves and each other. We look forward to seeing you when the health crisis is over. If you have the ability to do so, please donate online at this link, or by mail at
Greenbelt Arts Center PO Box 293 Greenbelt, MD 20768-0293
This is a very tough time for community theatre, and every little bit helps.
Another way to help us is to purchase gift certificates for yourself, family, and friends to use when we reopen.
Wishing you all the Best, Win and the Entire GAC Team