Due to the Covid-19 pandemic, all Greenbelt Arts Center and Rude Mechanicals productions are only available on-line. See each individual show link below to view it. We look forward to the time when we can once again perform on stage.

The Rude Mechanicals
in residence at the Greenbelt Arts Center present: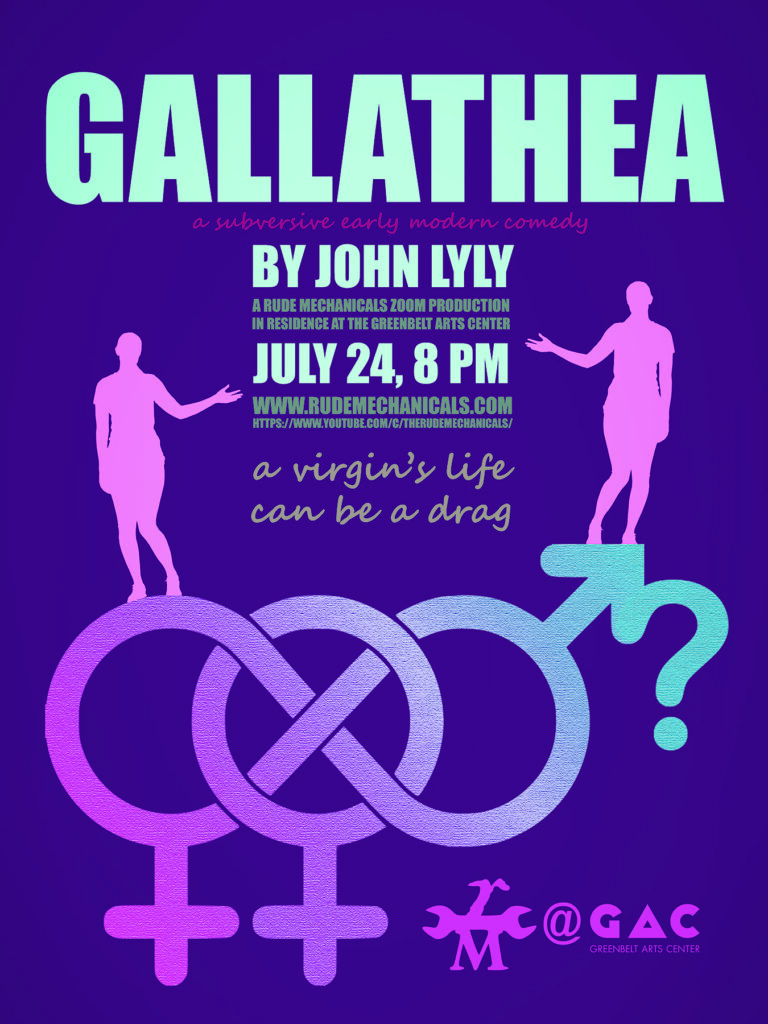 by John Lyly

directed by Jaki Demarest

Performance Live Online Saturday, July 24, 2021 at 8pm

All performances are free. We are asking a suggested donation of $10 to help support our continuing efforts to provide theater to Greenbelt and the larger community; please click on Donate and select "Support Online Shows."
The Rude Mechanicals are celebrating their 22nd anniversary with John Lyly's "Gallathea" on Saturday, July 24th at 8 PM. Written in 1588, and one of the most subversive comedies to have emerged in the last 2400 years or so, "Gallathea" features a same-sex, gender-fluid relationship that multiple gods and a whole village get behind and support, and it ends happily, with a marriage.
GAC's Old Time Radio Series
The Black Museum – Four Small Bottles
Matched closely to the true case history of Scotland Yard and the story of The Pimlico Poisoning Mystery
Cast: Sarah Baczewski, Allison Mollenkamp, Stu Fischer, Rob Glass, Steven Rosenthal, Sean Laraway, Rikki Howie, Jill Goodrich, Sandy Kozel
Direction/Sound/Placards… Rikki Lacewell
Suspense – The ABC Murders
Loosely adapted from the 1936 novel of the same name by Agatha Christie
Cast: Amanda Jones, Jackie Youm, Michael Wong, Carly Brownstein, Mel Gilpin, Alan Brownstein, Pamela Northrup,  Paul Jordan, Felicity Misse-Ekwa, Miriam Lemus
Direction/Sound/Placards… Rikki Lacewell
Thanks to a generous grant from the Greenbelt Community Foundation and the hard work of a number of volunteers, GAC has been able to completely renovate the dressing room over the past year. Join VP Programs Pamela Northrup for a video tour of the brand new space.
Our deepest gratitude to the Greenbelt Community Foundation, and all of our volunteers, without whom none of this would have been possible.
GAC's Old Time Radio Series
Auditions will be held on August 1st 3-5pm via Zoom
Director Rikki Howie seeks 15 actors to fill 25 roles. Successful auditioners will be on a system with a dependable internet connection and must have the ability to use virtual backgrounds on Zoom, or have a blank wall to perform against.
For more information, please see the full Audition Announcement here.
Online Proposals Wanted
The Greenbelt Arts Center is looking to find ways to continue to make art in these unusual times. We are seeking submissions for productions that can be done during this time of social distancing.
Successful submissions will be able to be streamed, either live or pre-recorded and edited together and have no or minimal costs associated with production. We are particularly interested in pieces that address current events, including original works.
Directors with works showcasing themes of social justice are strongly encouraged to submit.
In your proposal, please include:
– A brief summary of the script, as well as a link to an electronic copy
– A plan for how it will be broadcast (Facebook Live, Zoom, etc)
– All associated costs with the production, including rights
-A timeline for production, including proposed performance dates
Please submit the above to Pamela Northrup, VP of Programs at programs@greenbeltartscenter.org with your contact information.
Volunteer for GAC
The Greenbelt Arts Center publicity committee seeks volunteers:
Social Media Lead: maintain GAC's social media presence through Facebook, Twitter, Instagram and other venues. Help promote GAC's shows and other activities. The person doing this role can use publicity content created for other purposes (graphics and text). If desired, they could also supplement that with mini-videos and/or other original content. Time commitment is about 1 hour per week, or could be more if creating content.
Posting Flyers: Put up flyers in various places in Greenbelt, and possibly in neighboring cities. This is part of GAC's outreach to additional areas in Greenbelt, so putting up flyers in Greenbelt West and Greenbelt East is particularly needed. Time commitment is 2 to 3 hours per month. Will need transportation.
To volunteer, please email: publicity@greenbeltartscenter.org.
Training is available for these positions as needed.