Due to the Covid-19 pandemic, all GAC and Rudes productions are only available on-line.  See each individual show link below to view it.  We look forward to the time when we can once again perform on stage.

GAC's Old Time Radio Series
Now Available for Streaming on Demand
Fibber McGee and Molly – Valentine Candy
Lights Out – The Locked Room Mystery
Cast: Amy Kraft, Aria Renee Curameng, Nancy Linden, Stephen Foreman, Neil Twohig, Shamar Martin, Jim Adams, Jim Pasquale, Mark Granfors-Hunt
Director/Video Editing: Rikki Lacewell

Cast: Jeff Poretsky, Scott Sanders, Jeff Shaumeyer, Joy Gerst, Melissa Broy Fortson, Jim Adams
Director/Video Editing: Rikki Lacewell
Five Minute Mystery – The Oversight Case
Columbia Workshop – R.U.R. Rossum's Universal Robots
Cast: Suzette Agans, Andrea Trent, Sandra M. DeRocha, Lynwanda Coates, Jim Adams
Director/Video Editing: Rikki Lacewell
Cast: Mayumi Griffe, Bob Singer, Carey Bibb, Jean Fiumara, Evan Carrington, Lauren Tobiason, Colleen Robinson Miller, Jennifer Serra, Nikki Arbiter-Murphy, Lydia West, Lauren Lowell, Shamar Martin, Jim Adams
Director/Video Editing: Rikki Lacewell
GAC's Old Time Radio Series
New shows streaming March 28, 2021
The Rude Mechanicals
in residence at the Greenbelt Arts Center present: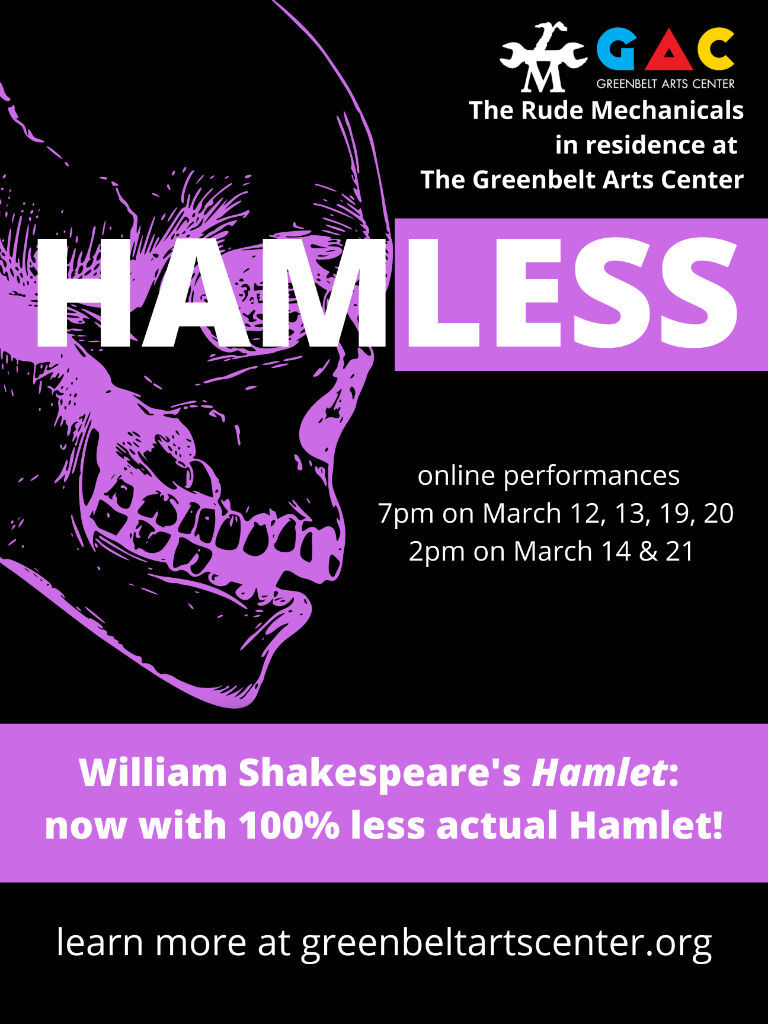 by
William Shakespeare
Adapted and Directed by Erin Nealer
Live Online Fridays, Saturdays & Sundays, March 12-21, 2021.
Showtimes are
7 pm on March 12, 13, 19, 20;  2 pm on March 14 & 21
Suggested donation: $10.
Click here and select "Support Online Shows"

"Hamless" is a Zoom adaptation of Shakespeare's most famous play that tells the story behind "Hamlet" – focusing on the personal and political drama – without ever introducing the audience to Prince Hamlet himself.
Online Proposals Wanted
The Greenbelt Arts Center is looking to find ways to continue to make art in these unusual times. We are seeking submissions for productions that can be done during this time of social distancing.
Successful submissions will be able to be streamed, either live or pre-recorded and edited together and have no or minimal costs associated with production. We are particularly interested in pieces that address current events, including original works.
Directors with works showcasing themes of social justice are strongly encouraged to submit.
In your proposal, please include:
– A brief summary of the script, as well as a link to an electronic copy
– A plan for how it will be broadcast (Facebook Live, Zoom, etc)
– All associated costs with the production, including rights
-A timeline for production, including proposed performance dates
Please submit the above to Pamela Northrup, VP of Programs at programs@greenbeltartscenter.org with your contact information.
Volunteer for GAC
The Greenbelt Arts Center publicity committee seeks volunteers:
Social Media Lead: maintain GAC's social media presence through Facebook, Twitter, Instagram and other venues. Help promote GAC's shows and other activities. The person doing this role can use publicity content created for other purposes (graphics and text). If desired, they could also supplement that with mini-videos and/or other original content. Time commitment is about 1 hour per week, or could be more if creating content.
Posting Flyers: Put up flyers in various places in Greenbelt, and possibly in neighboring cities. This is part of GAC's outreach to additional areas in Greenbelt, so putting up flyers in Greenbelt West and Greenbelt East is particularly needed. Time commitment is 2 to 3 hours per month. Will need transportation.
To volunteer, please email: publicity@greenbeltartscenter.org.
Training is available for these positions as needed.