Due to the Covid-19 pandemic, all Greenbelt Arts Center and Rude Mechanicals productions are only available on-line. See each individual show link below to view it. We look forward to the time when we can once again perform on stage.
GAC's Old Time Radio Series
New shows now streaming
The Rude Mechanicals
in residence at the Greenbelt Arts Center present: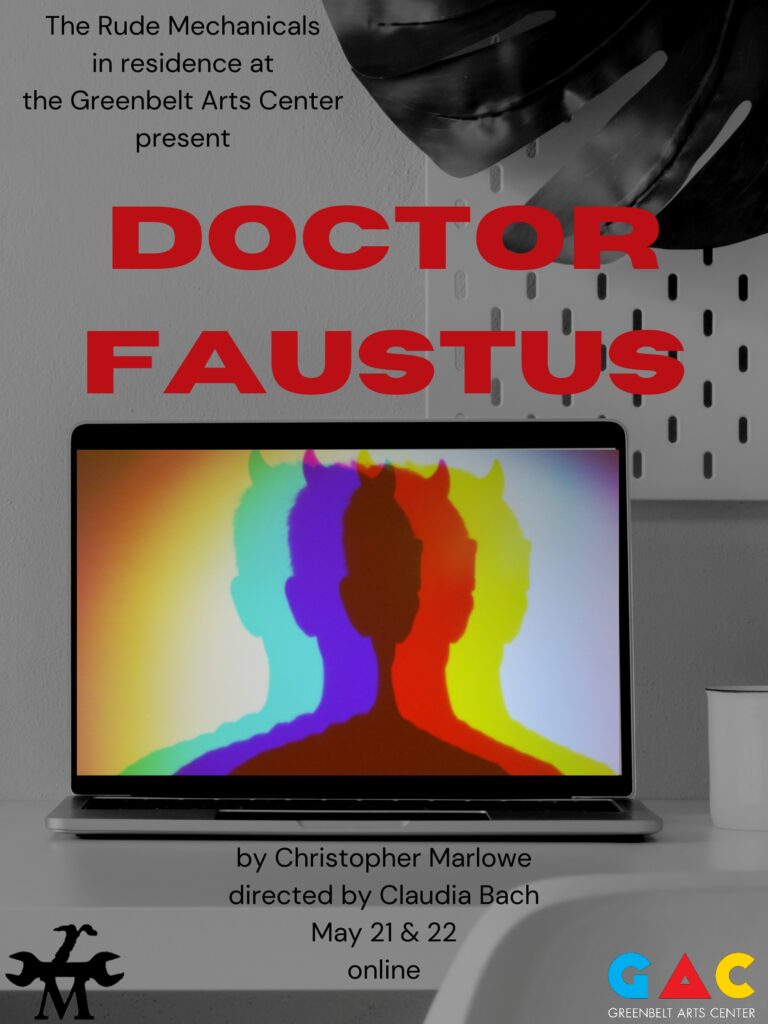 by
Christopher Marlowe
directed by
Claudia Bach
Performances : live via Zoom Friday, May 21 and Saturday, May 22

All performances are free. We are asking a suggested donation of $10 to help support our continuing efforts to provide theater to Greenbelt and the larger community; please click on Donate and select "Support Online Shows."
Set in a modern, internet-forum world, Faustus connects with some dangerous minds online and is dragged into a world of conspiracy, magic, and evil. After making a deal with a servant of Hell to unlock the truth and powers of the world, Faustus gets more than he bargained for when his payment comes due. On a backdrop of reddit, Qanon, and internet indoctrination, this production explores what it means to access the truth and to confront reality, whatever it may be.
GAC's Old Time Radio Series
The Green Hornet "The Ghost Who Talked Too Much"
Streaming LIVE June 19, 2021
Featuring:
Wes Dennis as Britt Reid/The Green Hornet
Matthew VanNostrand-Young as Kato/Ed Lowry
Rachel Brightbill as Lenore " Casey" Case/Jane
Pamela Northrup as Marjorie " Clicker" Binney/Lucia
Rob Glass as Greer/Newsie
Jennifer Thomas as Elizabeth/woman/Myra
Shamar Martin as Reporter/2nd Cop/2nd Man
Ken Littlefield as 1st Man/1st Cop
Allison Mollenkamp as Announcer/Secretary
Online Proposals Wanted
The Greenbelt Arts Center is looking to find ways to continue to make art in these unusual times. We are seeking submissions for productions that can be done during this time of social distancing.
Successful submissions will be able to be streamed, either live or pre-recorded and edited together and have no or minimal costs associated with production. We are particularly interested in pieces that address current events, including original works.
Directors with works showcasing themes of social justice are strongly encouraged to submit.
In your proposal, please include:
– A brief summary of the script, as well as a link to an electronic copy
– A plan for how it will be broadcast (Facebook Live, Zoom, etc)
– All associated costs with the production, including rights
-A timeline for production, including proposed performance dates
Please submit the above to Pamela Northrup, VP of Programs at programs@greenbeltartscenter.org with your contact information.
Volunteer for GAC
The Greenbelt Arts Center publicity committee seeks volunteers:
Social Media Lead: maintain GAC's social media presence through Facebook, Twitter, Instagram and other venues. Help promote GAC's shows and other activities. The person doing this role can use publicity content created for other purposes (graphics and text). If desired, they could also supplement that with mini-videos and/or other original content. Time commitment is about 1 hour per week, or could be more if creating content.
Posting Flyers: Put up flyers in various places in Greenbelt, and possibly in neighboring cities. This is part of GAC's outreach to additional areas in Greenbelt, so putting up flyers in Greenbelt West and Greenbelt East is particularly needed. Time commitment is 2 to 3 hours per month. Will need transportation.
To volunteer, please email: publicity@greenbeltartscenter.org.
Training is available for these positions as needed.