The Rude Mechanicals in Residence at the Greenbelt Arts Center present: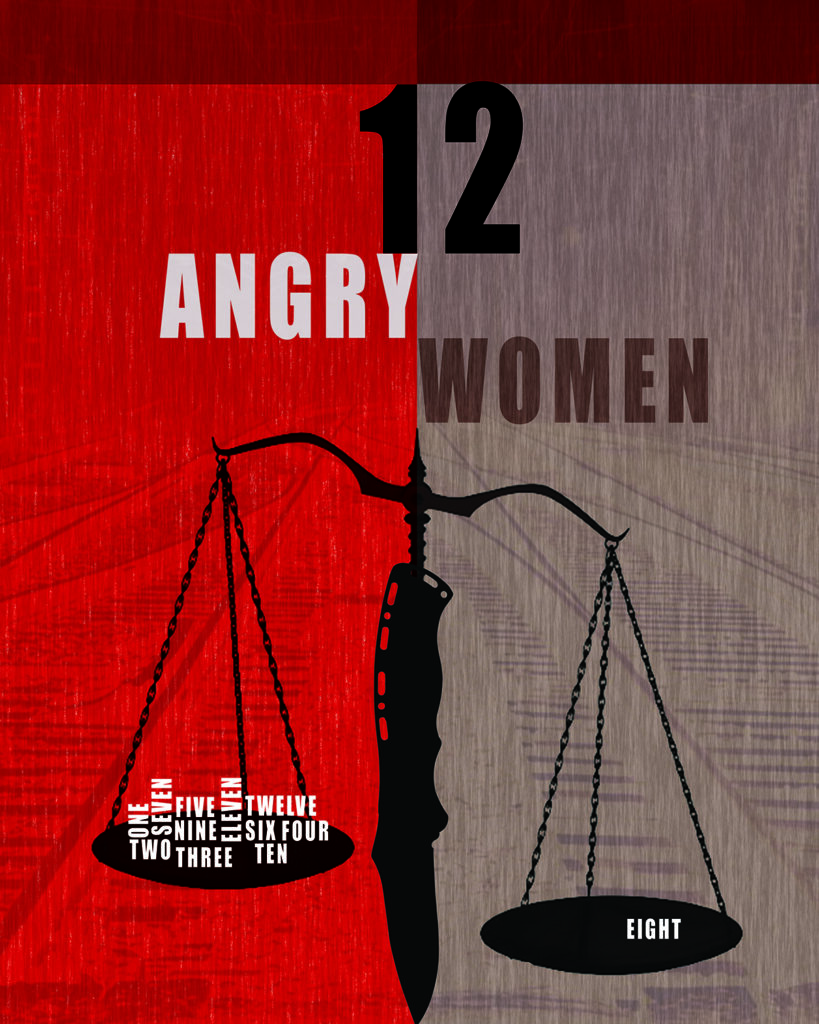 Twelve Angry Women
by Reginald Rose
directed by Ed Starr
Twelve Angry Women both tells a story and examines our society. The story is straightforward: twelve strangers must vote guilty or not guilty to decide the future of a young man charged with the murder of his father. Their verdict must be unanimous. The drama is played out in a claustrophobic jury room during an unbearable hot summer day. The environment is a crucible—a vessel that purifies through fire. Each of the jurors is forced to face herself—her life experiences, prejudices, personalities, and biases. Herein lies the ever-ascending drama of the play—the conflicts of every jury member within herself and with her fellow jurors as they examine the evidence.
Tickets must be purchased

 online;

there will be no door sales

.
August 26 to September 10, 2022
Fridays: August 26, September 2, & September 9 at 8:00PM
Saturdays: August 27, September 3, & September 10 at 8:00PM
Sunday matinees: August 28 & September 4 at 2:00PM
This will be a 70-minute performance without intermission.
Tickets must be purchased online; there will be no door sales.
Audience members will be required to comply with our Covid-19 Policy

Director's Notes:
Juries! Juries! Juries!
Juries have become an increasingly newsworthy, if necessarily invisible part of our culture. In remaining anonymous and leaving their identities outside the room, jurors become avatars for their own life experiences, elements of the society they represent.
Our ever-expanding media outlets give increasing exposure to criminal cases and civil disputes involving police and citizens, celebrities and victims, raising racial, environmental, financial, and domestic disagreements. We try to learn how our legal system deals with ugly and complicated but very human problems.
Few of the arts have focused on juries.
We have learned a lot about cops and robbers, prosecutors and defense lawyers, judges, white collar lawyers working for big businesses, and noble public defenders advocating for good causes. But little artistic attention has been given to the final arbiters of "justice" – the jury.
Twelve Angry Men, written by Reginald Rose, is preeminent among all the efforts to see inside the workings of our legal system, because it alone focuses on the jury system.
Rose's play originally aired on CBS's TV Studio One in 1954. In 1957 it became an award-winning film starring Henry Fonda and Lee J. Cobb. Over the years, it morphed into Twelve Angry Jurors, with a gender mixed jury (1964), and an all-female cast version in Twelve Angry Women (2011.)
The narrative is simple. A teenager is on trial for the murder of his father. Twelve members of the jury must reach a unanimous verdict. The death penalty is in force. The drama is played out in a claustrophobic jury room during an unbearably hot summer day. The environment is a crucible–a vessel that purifies through fire.
The movement of the play is relentless, and the arc of the story is always visible. There is no comic relief. Emotions ebb and flow as the dozen jurors sift evidence, and argue with themselves and each other. The outcome is always in doubt, and a man's life is riding on it.
In the nearly seven decades since this play had its debut, our country and our culture have seen revolutions in communications, transportation, and technology. Our shifting politics, ethics, and social norms have reshaped our views of the world and ourselves. But the existential issues of individual responsibility and the duties of citizenship are as vital now as they were then. Our judicial system is always a fragile institution. Living under the rule of law requires each of us to accept certain responsibilities–jury duty, the potential to preside over questions of life and death, being one of them. How each of us faces our obligations makes this play an important play and an American classic.