The Rude Mechanicals
in residence at the Greenbelt Arts Center present: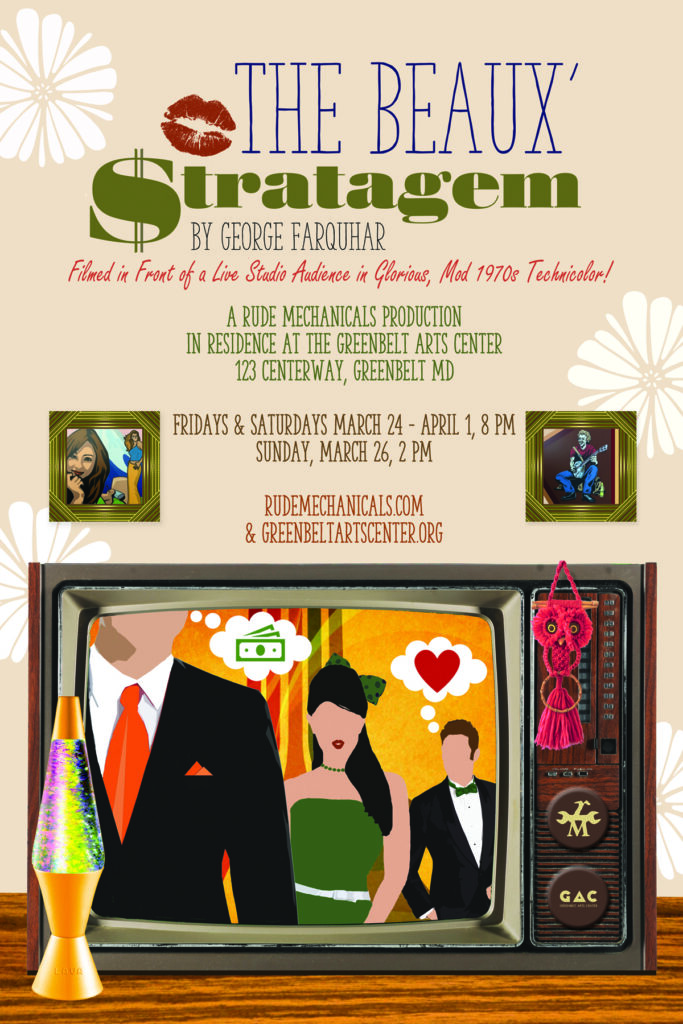 by George Farquhar

directed by Jaki Demarest

The Wandavisioning of the Rude Mechanicals continues, in this Year without Shakespeare! In this original adaptation of George Farquhar's Restoration comedy "The Beaux Stratagem," we follow the adventures of two charming Manhattan rakes, Archer and Aimwell, as they work their way through 1979 Lichfield, Kentucky society in search of a wealthy wife. Whichever one of them marries 'their wife,' they've agreed to share equally in her fortune. The plan starts going hilariously off the rails, of course, when Aimwell actually falls in love with their intended target.
See! Two broke boys scheming to be not-broke in a gender-bending 'How to Marry a Millionaire' prequel!
Cheer! As our heroes fend off local robbers, stewed possum suppers, and dubious powdered hamster cure-alls!
Watch! As several quirky but lovable couples disco their way into happily, wealthily-ever-afters!
Performances  :  
Fridays and Saturdays, March 24, 25, 31 & April 1, 8 PM
Sunday, March 26, 2 PM