The Rude Mechanicals
in residence at the Greenbelt Arts Center present:
Live Online Performances:
Saturday evening, August 15 at 8:00PM, live on Zoom
Sunday matinee, August 16 at 2:00PM, live on Zoom, followed by talk-back with the cast
Or watch on YouTube
Suggested donation: $10 General Admission
A portion of all donations will go to fund GAC's Diversity, Equity and Inclusion initiatives.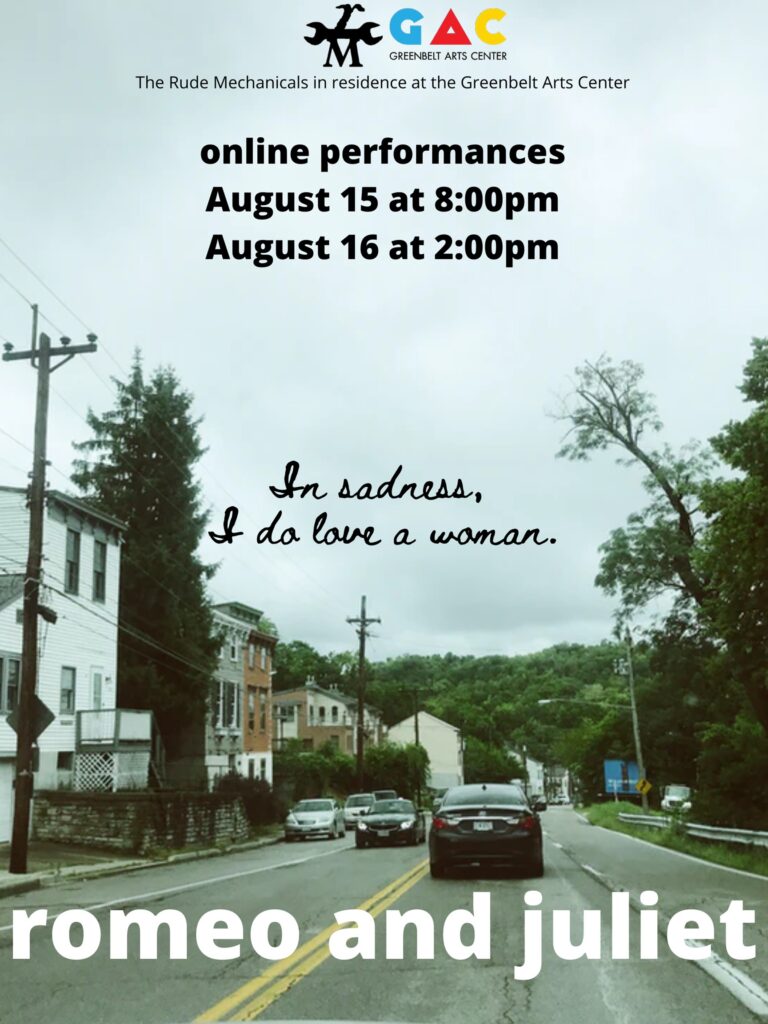 Romeo and Juliet
by William Shakespeare
directed by Claudia Bach

The Rude Mechanicals and the Greenbelt Arts Center present this online production of Romeo & Juliet, the story of two young women in rural America fighting against the prejudices of their families and even themselves in order to be together. This cast brings new life, heart, and insight to this classic play.
From the Director:
"I wanted to explore how we overlook and miss the voices of young people. There is a striking lack of trust and communication between the young people in this community and the adults, and the consequences are dire. What does it mean for two young women, living in a town so small they're practically isolated, to learn something about themselves — their love for each other — that suddenly makes them an Other? Alienated from the few people around them, who would they go to? Who would they trust? Suddenly, as the grapple not only with their secret infatuation but with the secret of their own identities, we can feel the full weight of the stakes Shakespeare is presenting to us, and the story begins to shed new light on what it is to love others and yourself."