Visual works by featured artists can be viewed on the walls of the Lobby
when the Greenbelt Arts Center is open for performances
&
by arrangement with the Gallery Manager, Linda Thompson (Linda.Thompson@greenbeltartscenter.org)
COME FOR THE ART … STAY FOR THE SHOW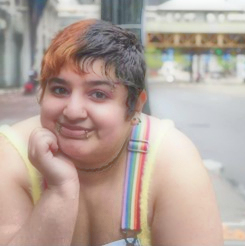 ABOUT THE ARTIST

Orion Romero is a Queer artist whose work is mainly portraits. They have roots in Morocco and Ecuador.  Orion is the first generation in the United States.
They have been taught many forms of art from a young age.  They focused on painting and drawing during their time studying at Anne Arundel Community College. They also spent a few semesters pursuing Art Education at the School Art Institute Chicago.
ABOUT THE ART

Some say silence is golden. 
I refuse to remain silent about what hurts me and what hurts others.
My work is loud in both its color choices and subject matter. The use of strongly pigmented media makes my work bold.
 I am tackling important issues like inequality, gender discrimination, sexism, and mental health.
These issues are like stones in my pocket that I carry with me throughout my day. With every work of art I make, I am chipping away at these stones in hopes that one day we will be free.
I take inspiration from the surrealist art movement. I don't draw what I see, I draw what needs to be seen.
 Some say silence is golden … I am not silent …