The Rude Mechanicals
in residence at the Greenbelt Arts Center present: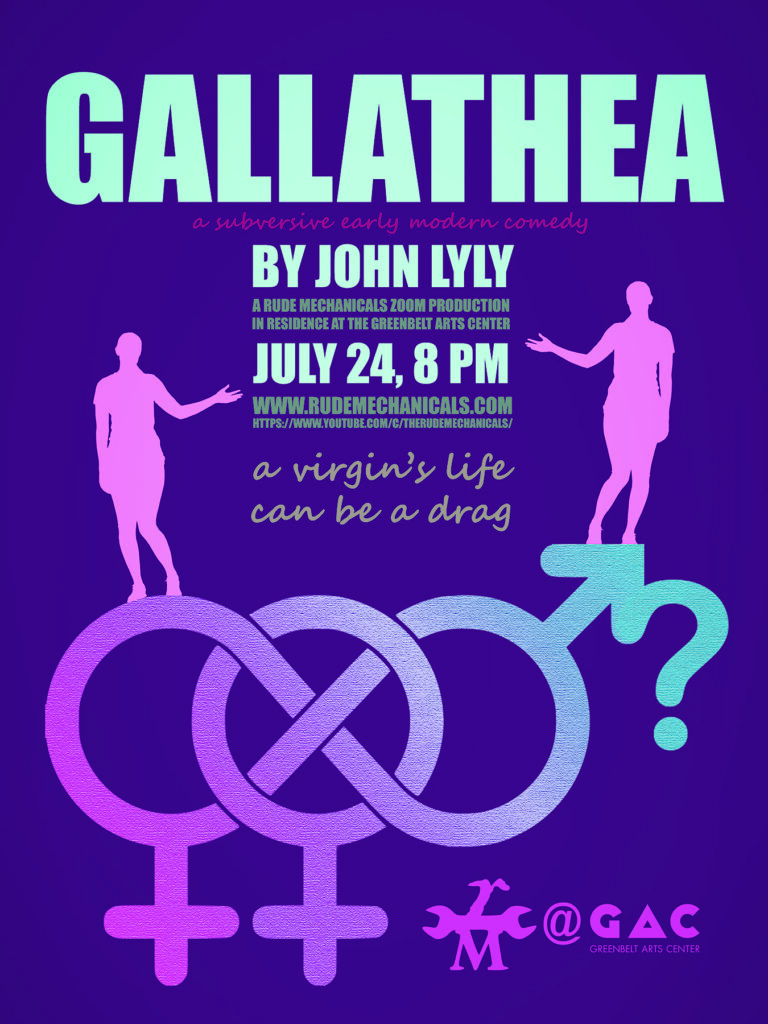 by John Lyly

directed by Jaki Demarest

Performance Live Online Saturday, July 24, 2021 at 8pm

All performances are free. We are asking a suggested donation of $10 to help support our continuing efforts to provide theater to Greenbelt and the larger community; please click on Donate and select "Support Online Shows."
Just in time for their 22nd anniversary (July 25), the Rude Mechanicals, who have survived COVID and the past two decades and are now officially old enough to drink, are Zoom-staging John Lyly's "Gallathea" on Saturday, July 24th at 8 PM. Join the fun!
Every five years, in the village of Lincolnshire, Neptune demands the sacrifice of the village's most beautiful virgin. Gallathea and Phillida are beautiful Lincolnshire virgins, and it's about that time. So their fathers disguise them as boys, send them off to the woods to hide, the cross-dressed virgins meet, and unexpectedly, they fall in love. And several woodland nymphs fall in love with one or both of them. And a few gods fall in love with each other. A dodecahedron of love is all around, irrespective of gender or species.
Easily one of the most subversive comedies to have emerged in the last 2400 years or so, "Gallathea" features a same-sex, gender-fluid relationship that multiple gods and a whole village get behind and support, and it ends happily, with a marriage. Lyly's treatment of the women is sympathetic and fiercely modern in interesting ways; Gallathea and Phillida fall genuinely in 'unspotted' love, a love that does not alter when it alteration finds. Each of them sees and knows that she is in love with another woman, and neither one pulls back. The goddess Venus comes up with a heteronormative plan to make one of them a man, but never decides which, and at the end of the play, two women are joyfully led off by their families, friends, neighbors and deities to be married.
We like to think it's happily ever after.