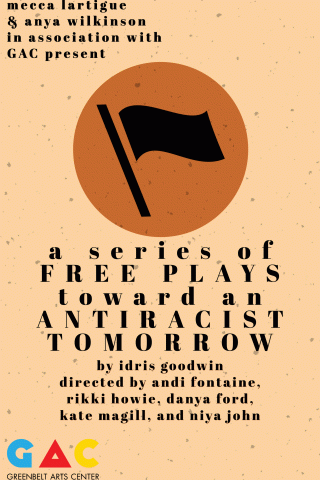 Eleanor Roosevelt High School students Mecca Lartigue and Anya Wilkinson, in association with the Greenbelt Arts Center present a selection of plays from

FREE PLAY Series by Idris Goodwin
To be presented

and
Discussion to follow each play
To reserve your space to attend, please click the date of the show above to fill out the request form. Zoom information will be emailed to you. 
THE WATER GUN SONG
 A parent is trying to find the words to explain to a child why a water gun isn't simply a toy
SAM – Stella Satterfield
JULES – Marlon Brown
Directed by Niya John
#MATTER

Former high school friends debating matters of life and race.
KIM – Evelyn Wiredu
COLE – Apple DeGeorge
Directed by Andi Fontaine
BLACK FLAG

Two new dorm-mates are excited to start their freshman year together, until one decides to decorate their room with a little piece of 'Southern pride.'
SYDNEY – Madeleine McComb 

DEJA – Sydney Taylor
HARRY –  Brandon Fuller

Directed by DaNya Ford